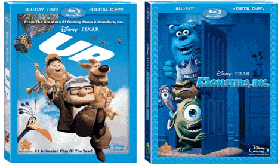 Through Saturday (11/14), you can get both Up and Monsters Inc. Blu-Ray/DVD combo packs for very cheap after coupons and rebates!
Here's how:
Buy (1) Up Blu-Ray/DVD Combo Pack – $19.99 (marked $26.99, but rings up $19.99. If it doesn't, then you can price match Walmart's ad for $19.96, page 10A)
Buy (1) Monsters Inc Blu-Ray/DVD Combo Pack – $18.99 (Price match Best Buy's ad, page 20)
Buy (2) Kernal Seasonings – $1.99 ea.
Buy (2) Ronzoni Smart Taste Pasta – $1.44 ea.
Use (1) $10/1 Up printable coupon
Use (1) $8/1 Monsters Inc. printable coupon [Log in (or sign up) and enter code 786936164886
on the right side of the screen. You will then see a Monsters Inc. $8 coupon banner in the middle of the screen. Click the banner to get the coupon)]
Use (1) $10/2 Up & Monsters Inc Target printable coupon (on page 3 for me)
Use (1) $1/2 Ronzoni Smart Taste Pasta printable coupon

Pay $16.84 out of pocket

Mail in for the following rebates:
$5 Rebate when you buy Up and (2) Kernal's Seasoning products
– There is also a $1/1 printable coupon (not valid on the popcorn seasonings in the scenario)

$4 Rebate when you buy Up and (1) Ronzoni Smart Taste, Ronzoni, San Giorgio, Creamette, American Beauty, Prince, or Skinner Pasta
Each rebate requires a copy of the receipt (photocopies are accepted) and a proof of purchase tab from the Up DVD (there are 2 per movie).  The Kernal's rebate also requires the UPCs from the Kernal's products.
Final price breakdown:
Up – $19.99
Monsters Inc. – $18.99
Kernal's – $1.99
Kernal's – $1.99
Smart Taste – $1.44
Smart Taste – $1.44
Rebate Stamp – $0.44
Rebate Stamp – $0.44
– $10 Up coupon
– $8 Monsters Inc. coupon
– $10/2 Monsters Inc. & Up Target coupon
– $1/2 Smart Taste coupon
– $5 Kernal rebate
– $4 Ronzoni rebate

Final price after rebates and coupons: $8.72 plus tax for 2 movies, 2 seasonings, and 2 pastas!
If you are worried about price-matching and using a coupon at Target, this email might help ease your nerves.
Please note: You do not need a Blu-Ray player to do this deal!  Each combo pack contains both a Blu-Ray disc and a regular DVD.
Thanks, Couponing 101!