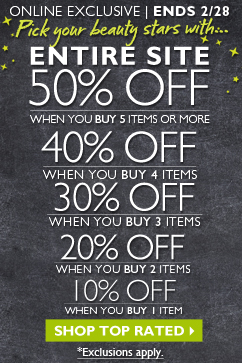 The Body Shop is having another awesome sale through tomorrow, February 28th! They're having their buy more get more sale and are offering the following discounts:
Buy 1 item, get 10% off
Buy 2 items, get 20% off
Buy 3 items, get 30% off
Buy 4 items, get 40% off
Buy 5 items, get 50% off
You don't even need a coupon code to get these discounts! This would be a perfect time to place an order with a friend or family member to save more. Shipping is $5.95, or FREE on an order of $50 or more.
See more The Body Shop Coupon Codes in the online coupon codes database!
Offer not valid in stores. Returned items will be refunded at the discounted price. Offer excludes the purchase of outlet items, charitable items, gift cards, LOVE YOUR BODY™ membership cards and pre-boxed gift sets. Cannot be combined with any other offers, discounts, or coupons, with the exception of LOVE YOUR BODY™ membership discount.