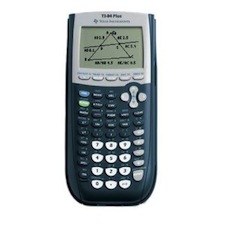 Have a child that's entering junior high or high school and needs a graphing calculator? Pick up the Texas Instruments TI-84 Plus Graphing Calculator for $94 on Amazon.com right now. This is a great price, and you won't have to pay tax in most states.
I had this graphing calculator all throughout high school, and I don't know what I would've done without it. It can do so many different things, most of which I probably never used! Make sure your child has one of these when they enter high school.
Product Features
Graphing calculator handles precalculus, engineering, trigonometric, and financial functions.
Backed by 1-year warranty
Displays graphs and tables on split screen to trace graph while scrolling through table values
11 apps preloaded
USB on-the-go technology for file sharing with other calculators and connecting to PCs
The price stated above was valid as of 2:44PM CST on August 22, 2012. Prices and availability are subject to change at any moment. Please confirm the price before you complete your order.