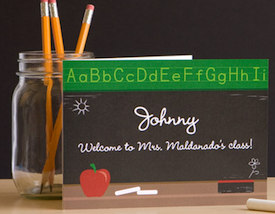 Through October 31st, Tiny Prints is offering teachers FREE welcome cards, thank you cards for parents and award cards for standout students using the code APPLE2010 at checkout! Simply choose a back to school greeting card, personalize it and then head to checkout. Enter coupon code APPLE2010 and choose the 'Pay as You Go Option' membership option, which will be FREE with this offer! If you intend to use Tiny Prints often, you could consider choosing a different membership option. There's no annual fee for each membership option for the first year. You can have the card sent directly to you at no charge or you can opt to have Tiny Prints mail the card directly to the recipient for the cost of a stamp, $0.44. Although your total will be zero (or $0.44 if you opt to have the card mailed to the recipient), you are still required to enter a credit card.
If you're a college student, you can get FREE College greeting cards through September 30th when you use coupon code COLLEGE10 at checkout! Just follow the instructions above (same as the Teacher greeting cards) and use coupon code COLLEGE10 at checkout.
One FREE greeting card can be processed per order. There are no limits to the number of orders that you can place with these promo codes.
Thanks, Hip2Save!