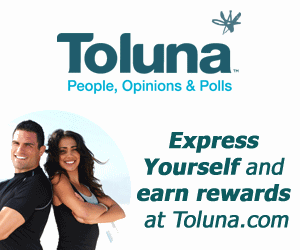 Are you looking for a way to make a little extra cash? Take a look at this survey site called Toluna. They are currently accepting applications, and you can earn some nice money from taking surveys!
As a Toluna member, you'll earn points worth $1 to $5 each time you qualify for and complete a survey. You'll also earn for the polls and opinion topics you create. Each time you participate in or complete a survey, you'll be entered into a monthly $4,500 prize drawing!
You'll also be entered into the $4,500 drawing just for registering for an account. So what are you waiting for? Sign up for Toluna and start earning right now!