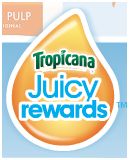 Tropicana has released a new rewards program in the last week called Juicy Rewards. There are 20,000 things to do with an empty juice carton. Saving money is easier and more fun than ever with Tropicana Juicy Rewards! Explore 20,000 ways to save on everything from golf and workout gear to waterpark and zoo admissions. One carton alone can save you $15, and 3 cartons can save you $45. Keep this in mind when making your orange juice purchases. This sounds like a great program!
Here's how it works:
Purchase any Tropicana product with the Juicy Rewards logo on it.
Register online and you'll receive 1 FREE point just for taking a short survey.
Enter your codes (under the cap).
Earn rewards including discounted admissions to amusement parks, museums, zoos, and lots more! You can even donate your points to rescue the rainforests.
Thanks, Mojo Savings!