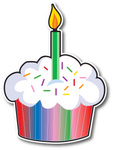 What's up with the picture of the birthday cupcake?! Well, my birthday is tomorrow! Yay! I will be 16 years old tomorrow!
I just wanted to apologize to you because I didn't get any deals up until about a half hour ago! I was in the Twin Cities celebrating my birthday, which is tomorrow, with my family at the Cheesecake Factory. Afterwards, we went to Dave and Buster's. It was pretty fun!
Sorry for being late on the deals, and thanks for reading Frugal Finders!