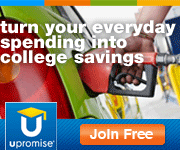 What is Upromise?
Upromise is a FREE service that helps members save for college by earning 1-25% on qualified everyday spending with America's leading companies nationwide. Members earn money for college when dining at 8,000 restaurants, buying groceries at more than 21,000 stores, shopping online with more than 600 retailers, booking travel, moving and much more.
What can I do with my Upromise earnings?
Once you've accumulated at least $25 in earnings in your Upromise account, you can use this money in a variety of ways:
Grow your earnings in a tax-free 529 account.
Pay down existing Sallie Mae student loans.
Collect a check for college expenses.
How do I earn Upromise money?
Shop online: If you are planning to make an on-line purchase, click on upromise.com and search for the items or stores that you want. Then click through the online store of your choice and pay for your purchase any way you prefer. You can earn up to 1-25% back on all your eligible purchases.
Eat at a Upromise Restaraunt: Sign up as a preferred diner (Preferred Diners earn 4%–8% contributions on eligible transactions, while regular Upromise members earn only 2%–4%. Preferred Diners will also get access to more restaurants and exclusive access to special bonus earning opportunities), go to eat or get takeout at an eligible restaurant
Buy select groceries at Upromise participating stores (like CVS, Albertsons, Fred Meyer etc.); you will need to register your drugstore and grocery cards to earn Upromise credits. Then all you have to do is purchase participating items and scan your registered grocery or drugstore card at checkout to get credit. For example, you can earn 3% back on BIC razors, 1% on Hefty One-Zip storage bags, 2% on Nestle candy, 2% on Beech-Nut baby products, etc!
Upload eCoupons to your registered grocery or drugstore card(s). Simply select the eCoupons for products that you think you will purchase, shop for activated eCoupon products at participating stores, and then scan your registered card at check-out and get college savings! The best part is that the available eCoupons change monthly. For example, this month you can earn $2 for your Upromise account when you purchase1 Bounty Paper Towels 6 count or larger.
Invite family and friends to join to help you save. Once you join Upromise you can send grandparents, aunts, uncles, neighbors etc. invitations directly your Upromsie account. If they choose to join, then all or part of the college savings will automatically be transferred to your Upromise account.
Note: When I joined today, the 2nd page after the registration took me to a Upromise Credit Card application page. If you are not interested in applying for this credit card, scroll all the way down to the bottom of the page and click on 'No Thanks.' Once you join, you will be offered a $5 gift card for Target.com, Barnes & Noble, CVS or you can opt to contribute the $5 to your Upromise account. (In order to earn this $5 gift card or account contribution, within your first fourteen days of membership, you must make a purchase with a participating online retailer through Upromise that qualifies for a Upromise contribution). You will then be taken to a page to register as a preferred diner (this is FREE) and to register your debit or credit card(s) so your savings can be tracked and credited to your Upromise account.
Thanks, Hip2Save!