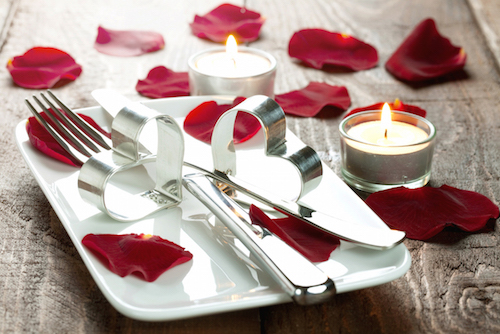 Valentine's Day Restaurant Deals
Planning on dining out this Valentine's Day? Here are this year's Valentine's Day Restaurant Deals! Find the best coupons, heart-shaped menu items, and kids eat free offers below. Thanks to Time2Save for this list!
You can save on your Valentine's Day dinner at national chains and local restaurants when you use these sites to purchase vouchers:
Bertucci's
$35 Valentine's Dinner for 2 (Feb 11 – 15): Includes 2 salads, 2 entrees, and dessert to share. More details here.
Bonefish Grill
Just $29.90 per person for a salad, filet, and lobster tail or imperial sea bass entree, and chocolate creme brulee to share. More details here.
Buca di Beppo
Dinner for 2 for $49.99 (Feb 12 – 14): Includes heart-shaped lasagna salad, garlic bread, and cannolli. See more details here.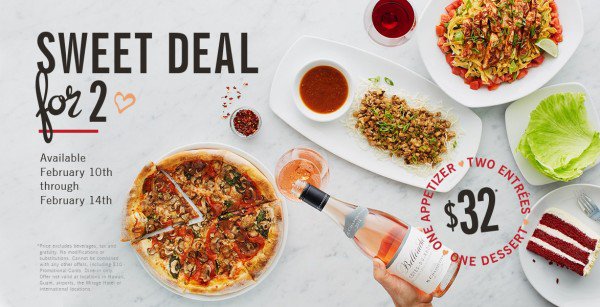 California Pizza Kitchen
$32.99 Meal for Two: Includes appetizer, 2 entrees, and dessert. More details here.
Chili's
$35 Cupid's Combo for Two (Feb 8 – 14): Includes 2 presidente margaritas, an appetizer to share, 2 6-oz sirloins, and a white chocolate molten cake for dessert. More details here.
Dairy Queen
Red Velvet Blizzard Cake for two only $9.99. Order here. Red Velvet Blizzards served upside down or your next one's free! Join the Blizzard fan club for a BOGO Blizzard coupon to be delivered in your inbox each month.
Dunkin' Donuts
Heart shaped donuts, but no deals we know of (yet).
IHOP
All you can eat pancakes through February 14.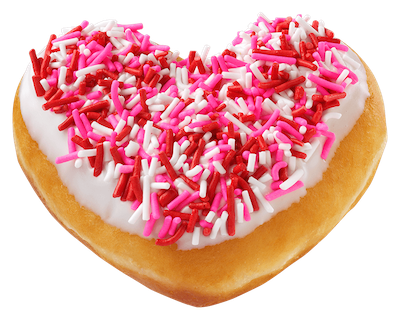 Krispy Kreme
Heart-shaped donuts that come with printable Valentines.
In the past, they've also done this:
Buy a dozen Krispy Kreme doughnuts and receive a sheet of Krispy Kreme Valentines coupons. There are 12 coupons good for one free doughnut each.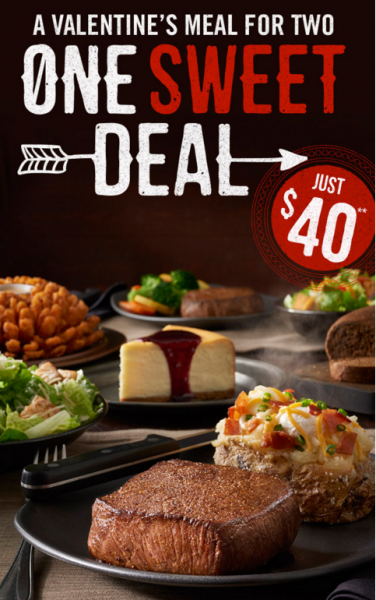 Outback Steakhouse
$40 Dinner for Two (Feb 8 – 14). Includes Bloomin' Onion, 2 9-oz sirloins and sides, 2 salads, and cheesecake. Get more details here.
Papa John's
Large pizza with up to 5 toppings for $9.99. See more details and other specials here.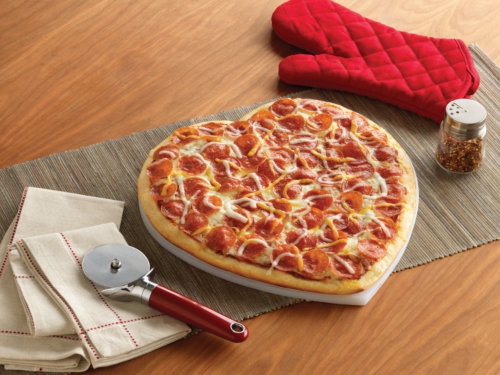 Papa Murphy's
$7 HeartBaker pizzas make a great easy dinner for the kids. This heart shaped take-n-bake pizza is just $7 and comes topped with three cheeses and pepperoni or sausage. Limit of 3 per customer. Valid until 2/14. Prices and participation vary.
Pollo Tropical
Text "LOVE2016" to 52198 to get a coupon code for the "Two Can Dine for $9.99" special. Includes 2 entrees, 2 drinks, a side, and dessert.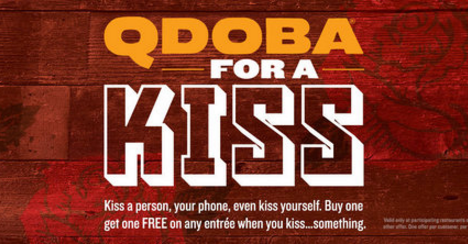 Qdoba
Buy one entree, get one free when you share a kiss at Qdoba on February 14th with anyone or anything. No coupon necessary. More details here.
Ruby Tuesday
Enjoy a lobster tail with any entree for $6.99. More info here.
The Rusty Bucket
Kids eat free all day on 2/14 only. More details here.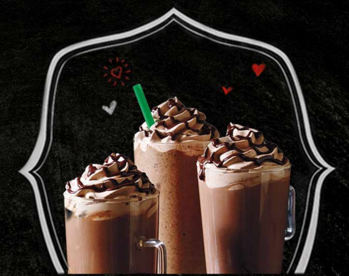 Starbucks
Invite a date to try their new Molten Chocolate Latte with these Valentine date invitation GIFs.
Steak n Shake
Free Valentine milkshake on your next visit when you buy $10 in gift cards.
Texas Roadhouse
$36.99 Valentine's dinner for two (February 12 – 15). Includes cactus blossom or fried pickles appetizer, and choice of 2 entrees. More details here.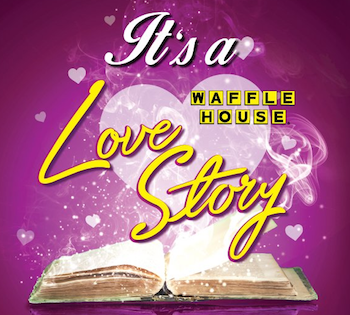 Waffle House Candlelit Dinner
Make reservations at Waffle House this Valentine's Day for a romantic dinner with tablecloths, candles and a classic menu of breakfast items and steak.
White Castle Candle-lit Dinner for Two
Select White Castle locations are taking reservations for a romantic evening, where you'll be seated by a host/hostess and order from special menu items like "Shrimp Nibblers" and "Strawberries & Cream Waffles".