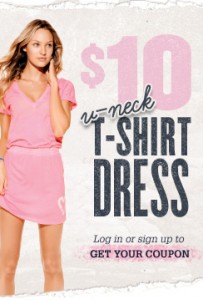 Pink Nation released a new coupon for its members! Go here and login or register to print a coupon valid for $10 v-neck T-shirt dresses (these dresses normally retail for $19.50). This coupon is valid through March 17th.
And remember, you'll be able to get a FREE Mystery Rewards card with this purchase! Since the Mystery Rewards cards are worth at least $10, your T-shirt dress will end up being FREE!
If you don't know what the Victoria's Secret mystery rewards cards promo is, here's a quick recap: Purchase any item from Victoria's Secret and you'll get yourself a rewards card worth at least $10, but it could be worth $50, $100, or even $500! The reward cards will be valid to use April 1st through April 30th in-stores, online, or by phone.
Thanks, Hip2Save!