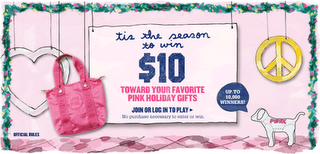 If you haven't signed up to be a member of Victoria's Secret Pink Nation yet, I would highly recommend doing so now! Currently, new members can download a coupon to get a FREE solid tank with any PINK purchase and $10 off a $50 purchase.
Also, Victoria's Secret has a new "Pink Nation Holiday Jackpot" sweepstakes. You could be one of 10,000 Pink Nation members to win a $10 off $10 purchase coupon! To enter, after you are logged into your Pink Nation account, click the Holiday Jackpot icon. Before entering, be sure your computer is connected to a printer (so you can print your coupon). Keep in mind you can play as often as you like, basically until you win.
Thanks, It's Hip to Save!