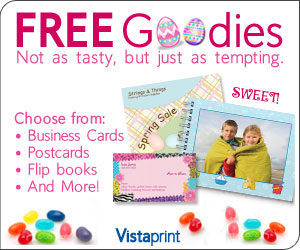 Now you can fill every Easter basket with FREE items that are sure to please family, friends and associates alike. Vistaprint is offering 6 FREE goodies for Easter! You can choose from business cards, postcards, folded note cards, a pen, a stamp, or a flipbook–all for FREE. You'll just have to pay for shipping.
Shipping starts at:
Business Cards: $5.67
Postcards: $6.53
Folded Note Cards: $4.69
Pen: $4.61
Stamp: $6.31
Flipbook: $6.16
This is only valid through 4/20, so hurry and get yours now!