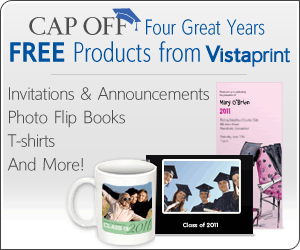 Currently, Vistaprint is offering up 6 FREE products for all of your graduation needs! Choose from invitations, announcements, T-shirts, flipbooks and more. The easiest and most cost efficient way to celebrate all of the graduates in your life. Whether you have a graduate of your own or will be celebrating the achievements of others, these essentials are sure to please.
Don't compromise on party invitations because of budget, get 10 FREE invitations! Have a graduate going off to college? Put together a photo flip book to remind them of their friends and family at home. Attending a graduation party? Give the gift of thank you cards, which will be sure to come in handy.
The products are FREE; you'll just pay for shipping and processing.