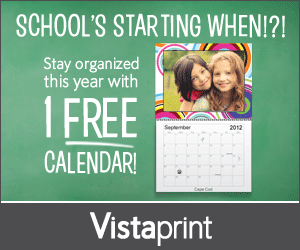 Summer is already starting to wind down, but a new and exciting school year is just around the corner. Prepare for the busy months ahead while keeping those summer memories alive with Vistaprint's photo calendars.
Right now, you can grab a FREE Back to School Calendar from Vistaprint! You'll only owe shipping, which starts at $5.32.
In addition to a variety of great designs, these calendars come with great features and upgradable options:
Choose from a variety of themed designs
Customize individual dates with personal events
Add fun icons and text
Upload up to 13 of your favorite photos for FREE
Select your starting month and year
So what are you waiting for? Grab your FREE Back to School Calendar right now.