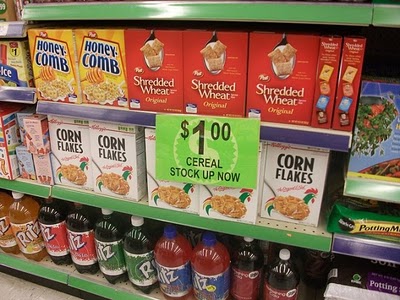 Next time you're at Walgreens, look for cereals priced at $1 per box! It appears that Walgreens may have Kellogg's Original Corn Flakes 7 oz Boxes priced at just $1. Plus, the smaller boxes of Post Honey Comb cereal and Post Shredded Wheat priced at $1 too. Here's how to get them for $0.50 per box…

Buy 2 boxes of Kellogg's Original Corn Flakes $1 each
Total: $2
Use the $1/2 coupon from here
Final cost: $0.50 per box
And/or…
Buy 2 boxes of Post Shredded Wheat or Honey Comb cereal, $1 each
Total: $2
Use the $1/2 coupon from the 5/16 SS
Final cost: $0.50 per box
Also, the Renu Sensitive Eyes contact solution is ringing up at just $2.29. This probably won't be marked, so do a price check. Plus, when you purchase one, it will still generate a $7.50 Register Reward!

Deal Scenario:
Buy 1 Bausch & Lomb Renu Sensitive Eyes Contact Solution, possibly priced at $2.29
Use the $2/1 coupon from the 6/6 SS
Pay $0.29
Get back a $7.50 RR
Final cost: FREE + a $7+ moneymaker!
Thanks, Hip2Save!