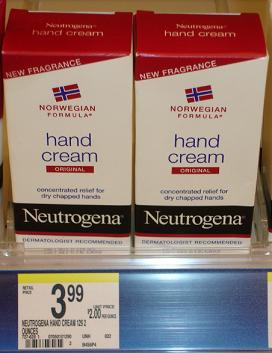 Wow! Here's yet another Neutrogena moneymaker, if you can't find enough soap or lip balm at your store:
Buy 2 Bars of Soap, $2.16 each
Buy 1 Neutrogena Hand Cream (Original, New Fragrance), $3.99
Total: $8.31
Use 2 $1/1 coupons from the 6/13 SS
Pay $6.31
Get back a $10 RR
Final cost: all 3 Neutrogena products FREE + a $3.69 moneymaker!
And here's a deal on Mac and Cheese:
Buy 2 Kraft Mac & Cheese, $1.19 (price estimate)
Use the $0.55/2 coupon from here (play the Noodlette game)
Use the Walgreens Mac and Cheese in-ad coupon (will deduct $1)
Final cost: $0.42 each
Thanks, Wild for Wags!