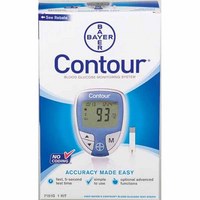 There's a register rewards deal going on this week at Walgreens:  Buy $20 in selected Bayer products and get a $5 register rewards back.  One of the products included is the Bayer Contour or Breeze Glucose Meters.  Buy two and use two of the coupons in the 10/25 Red Plum insert to pay zero $$ out of pocket and get a $5 Register reward back.  The coupons says "save up to $30? so it will need to be adjusted down by the cashier.
However, according to the preview for the Walgreens sales circular for the week of November 8th, there will be another register rewards deal on Bayer meters.  On that week for every Bayer meter you buy you will get a $5 RR.  Use one coupon and pay zero out of pocket and get a $5 RR.  If you are willing to wait, then you may want to hold on to your coupons until then.
Thanks, Common Sense with Money!