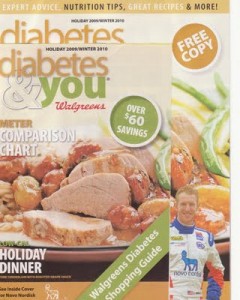 There's another coupon booklet available a Walgreens stores.  This is a quarterly magazine that Walgreens puts out called Diabetes & You.  The Holiday 2009/Winter 2010 issue has the following Walgreens (store) coupons in it:
$1 off Natures Bounty Diabetes Support pack 30packets
$0.50 off Curad Hold tite bandages or Adhesive pads
$3 off JoinFlex Arthritis Pain Relief Cream
$1 off Nature's Bounty Cinnamon 60 or 100 capsules
$2 off Lotrimin AF Antifungal
$2 off Kerasal Ointment 1oz
$3 off Lamisil
$2 off Theraflu Sugar-Free Nighttime Severe Cold & Cough 6pk
$5 off Neuragen PN .17oz
Buy 2 Get $1.50 off Colgate Total or Total Advanced Toothpaste
$2 off Benefiber
$6 off Comfort Scanner Temporal Thermometer
$1.50 off BD Ultra-fine II Lancets
$5 off Bayer Contour test strips 25ct
$1 off BD Sharps container
$5 off Truetest Blood Glucose Test Strips 100pk
Buy 2 get $1 off Crystal Light Drink Mix .87oz or 2.1 oz OR On the go .6 or 1.4oz
Buy 2 get $1 off Nabisco – Triscuit, Wheat thins 10oz, Snackwells 6.75oz, 6pk 100 calorie pks
$0.50/1 Gluco Shot 2oz
$1 off Planters Peanuts 12oz
$5 off Accu Chek Aviva Blood Glucose monitor
$0.50/1 Ricola Sugar Free cough drops
$1.50 off Glucerna Shakes 4 or 6pks
$2 off Foot Care: Zostrix or Diabetiderm Foot Cream
$1 off Curel Lotion 13oz
$1.50 off Glucerna Cereal and Snack Bars
$1 off Lubriderm Lotion 6-16oz or Ointment 1.75oz
$3 off Iceland Health Chromax Plus Ultra Strength 60ct capsules
In the past, I have found this magazine by the pharmacy waiting area or on a table at the entrance of the store. It's getting hard to keep track of all of these Walgreens coupons, but, because they can be stacked with manufacturer coupons, it's worth it to look for them.
Thanks, Common Sense with Money!