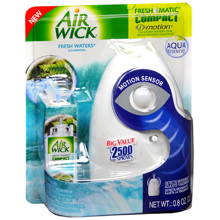 This week at Walgreens, Air Wick products are on sale 50% off. Here's how to get the Compact iMotions FREE:
Air Wick Compact iMotion, $7.99 (should ring up at $3.99)
Use the $4/1 coupon from the 8/8 SS
Final cost: FREE!
**Since you will get 1¢ in overage, the last coupon you use will beep. The cashier can either adjust the coupon down, push it through manually, or ring up the product(s) at $4. Just make sure you have something else in your transaction to absorb the possible overage.