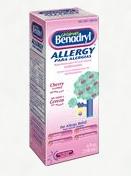 You can get FREE Children's Benadryl on 3/28 – 3/30 only!
Next week, Children's Benadryl is included in the buy (2) get a $5 RR deal and they are on sale for $4.99 each.
Deal Scenario:
Buy 2 Children's Benadryl 4oz or Tablets 18 count, $4.99 each
Use the $3/2 Infant's Motrin, Children's Motrin, Infant's Tylenol, Children's Tylenol plus Cold products coupon from the 2/21 or 2/28 RP
Use the $1/1 Benadryl coupon from the Walgreens childrens activity book (expires 3/30) (will deduct $2)
Pay $4.98
Get back a $5 RR
Final cost: 2 FREE!
If you don't have the $3/2 coupon, you could use 2 $1.50/1 coupons. There used to be a $4/2 coupon, but there are no prints left.
Thanks, WildforWags!