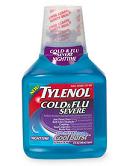 UPDATE: This deal may not work because the coupon and Register Reward are coded the same way. I would think that the $5/2 coupon would be coded differently becase the Register Reward is essentially a $5/1 coupon, but I'm not sure. I will try it tomorrow morning and let you all know how it goes for me.
You can get FREE cold medicine if you have the right coupon in your paper tomorrow! My paper has the coupon, and if you've purchased papers from Clearwater or anywhere else around the Minneapolis area, you should have it too! If you don't get it, My Coupon Hunter has them up already and available to purchase.
Deal Scenario:
Buy any 2 of the following products at $4.99 each:
Tylenol Sinus (20 or 24 count or Liquid 4 or 8oz)
Sudafed (16-36 count or Nasal Mist .5oz or Liquid, 4oz)
Benadryl (18-24 count or 10 pack or Liquid, 4oz)
Children's Tylenol Plus, Benadryl or Sudafed PE (4oz)
Total: $9.98
Use the $5/2 Select Allergy and Sinus Products coupon from the 4/11 RP
Pay $4.98
Get back a $5 Register Reward
Final cost: 2 for FREE!
Thanks, WildforWags!