Next time you're at Walgreens, keep your eyes peeled for this great deal! Currently, Finesse is offering up a try me FREE rebate that will be attached to the bottles as peelies. You'll get your full purchase price back, minus coupons and discounts, up to $3.99.
All of the Finesse products in the display above were priced at $3.99 or 2/$7 at my store. I found the display in the aisles surrounding the cosmetics counter.
You can use the $1/1 coupon from the 10/24 SS, but keep in mind you'll only get $2.99 back for your rebate.
I would highly recommend getting a rebate receipt for this; if you use a Register Reward in your transaction, they could interpret it as a discount and not give you your full rebate back.
The rebate must be postmarked by 12/31/11, so you'll have plenty of time to find this at your store!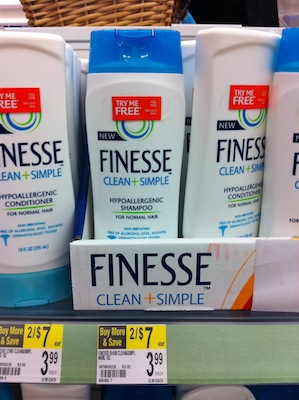 Thanks, Sue!