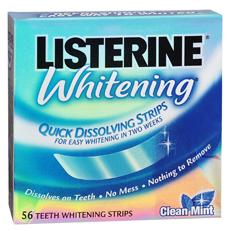 UPDATE: Both the 25th Avenue and Waite Park Walgreens in St. Cloud do not have these peelies!
Look for $10 off peelies on the Listerine Whitening strips at your local Walgreens! If you are lucky enough to find them, you'll be able to get them FREE:
Listerine Whitening Strips, $19.99
Use the $10/1 Listerine Whitening Strips peelie found on the package
Use the in-ad coupon (will deduct $10)
Final cost: FREE + $0.01 in overage!
Just be sure to buy this along with something else, or the in-ad coupon won't scan because of the $0.01!
Thanks, WildforWags!