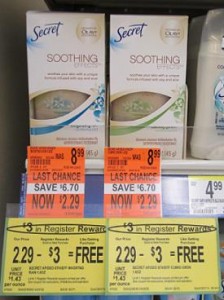 UPDATE: Based on the comments at Hip2Save and Wild for Wags, it appears that this Register Reward is now rolling! This means that you can pay with a $3 Secret RR and you'll still get another one back! Just make sure to throw in $0.71 of other merchandise so you can use the Register Reward.
When you're shopping at Walgreens, keep your eyes peeled for Secret Soothing Effects Calming Garden or Invigorating Rain deodorant on clearance for $2.29…these deodorants qualify for the $3 Register Reward, so even without any coupons, you can get them for FREE and make $0.71! Let us know if you find this clearance price.
---
You can also get FREE Right Guard…
Right Guard Sport 3-D Cool (3 oz), on sale buy one at $2.99, get one FREE
Use the buy one get one FREE coupon from the 7/25 RP
Final cost: 2 for FREE!
This deal is unadvertised, so do a price check. The cool variety is the only one ringing up buy one get one FREE.