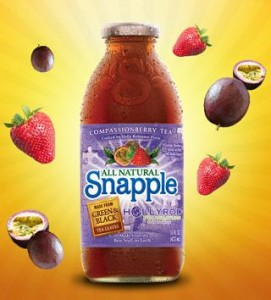 Walgreens Updates
Right now, you can get FREE Snapple after mail-in rebate! Here's how:
Snapple Compassionberry (6 pack), $6.99
Pay $6.99 (+ tax)
Submit for the mail in rebate found on the package (will receive $6.99)
Final cost: FREE!
Also, the first aid kits may be on clearance for $1.24 each.
If these are Johnson and Johnson kits, you can use the $0.75/1 coupon from the 5/16 RP to pay just $0.49 for one. These kits contain the following manufacturer's coupons (all expire 12/31/10):
$2/1 Bengay Product
$1/1 Neosporin Product
$2/1 Neosporin Lip
$1/1 Band-aid brand adhesive bandages, Any
$3/2 Johnson & Johnson Red Cross Brand First Aid Products
$4/2 Cortaid Products
$2/1 Benadryl Cream, Spray or Gel
Finally, you can now sign up to receive exclusive deals, offers, and more via Special Offers texts from Walgreens. Just text FBOOK to 21525 to sign up. You will get up to 5 messages per month. Standard text messaging rates apply.
Thanks, WildforWags!