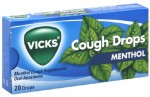 Did you know Vicks sells menthol cough drops? I remember getting these FREE last year, and you can get them FREE again this year at Walgreens! Here's how:
Vicks Menthol Cough Drops, $0.99 each
Use the $1.50/1 Vicks product coupon from the 10/10 P&G
Final cost: FREE!
I'm assuming other retailers such as Walmart and Target sell these too…let us know if you're able to find these elsewhere and what the price is!