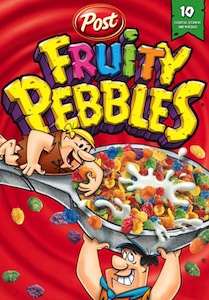 Wow! If you're in need of cereal, now is the perfect time to stock up. This week, Walgreens has Fruity Pebbles on sale 2/$5, and you'll get a $3 Register Reward when you buy (4) boxes.
You can use coupons to make this an even sweeter deal. Not only is there a printable coupon for the cereal, but there's also a Walgreens mobile coupon you can use to get this cereal for only $0.75 per box!
To get the Walgreens mobile coupon, you'll need to have the Walgreens app downloaded on your smartphone. Once you open the app, tap the Coupons button, then View Coupons, then the Post coupon. Just have the cashier scan the coupon from your phone at any time during the transaction.
Buy 4 Post Fruity Pebbles, 2/$5
(2) $1/2 Post Kids Cereals
(1) $1/2 Post Cereal (11-24 oz) Walgreens mobile coupon (deducts $2)
Pay $6
Get back a $3 Register Reward
Final cost: $0.75 per box
Check out the rest of this week's Walgreens deals.
Thanks Wild for Wags!