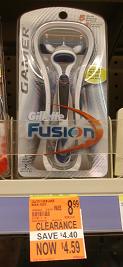 Check your Walgreens for Fusion Gamer Razors on clearance! Some stores have them for $4.59 and they may also ring up as part of the B1G1 50% off sale! Combine that with the $4/1 Gillette Fusion Razor coupon from the 4/4 P&G, and you have FREE or super cheap razors!
You could buy 1 and pay $0.59 or you could buy multiple. If your store will not allow you to use 2 coupons when purchasing 2 razors (not allowing for overage), ask to have the coupon adjusted down or you could do this scenario:
Buy 4 Fusion Gamer Razors, on sale B1G1 50% off: $13.77
Use 3 $4/1 Gillette Fusion Razor coupons from the 4/4 P&G
Final cost: $0.44 each
If your store will adjust the coupons down (and they should, I've emailed corporate about it), you can do the above scenario but use 4 $4/1 coupons. You will then end up with 4 FREE razors!
Thanks, WildforWags!