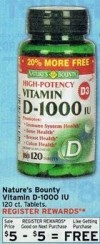 Walgreens has Nature Bounty D-1000 on sale for $5 and you get a $5 RR when you purchase it, making it FREE. There is also a $5 off coupon available, which makes each of these bottles a $5 moneymaker!
Here's how you get the coupon:
Go to Nature Bounty Rewards and register for an account.
Enter the following codes:

2099 -18576402
51135 -18576402
27602 -18576402
17139 -18576402
2386 -18576402
2532 -18576402

Those should add 600 points to your account.
Click on 'Redeem My Points Now'.
Select the $5 coupon at the bottom.
Print the coupon, then click back to print it three more times. You can actually print this coupon four times total!
Then go to Walgreens and do this:
Purchase one D-1000 vitamin for $5
Use your $5 off coupon
Pay nothing
Get back a $5 RR
Final cost: FREE + $5 moneymaker!
Thanks so much, SwagGrabber!