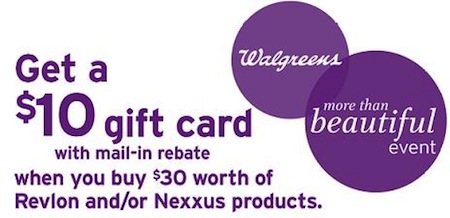 Walgreens is offering a $10 mail in rebate when you purchase $30 worth of Revlon and/or Nexxus products. You must purchase these products between 9/1 and 9/30 and the rebate form and receipts must be postmarked by 9/30. Limit 1 per household or address (2 in RI).
However, the rebate doesn't specify if the $30 is before or after coupons or how paying with a Register Reward would impact your rebate.
Revlon is B1G1 50% off next week, so we should be able to score some great deals! Just don't buy anything before 9/1!
Thanks, WildforWags!