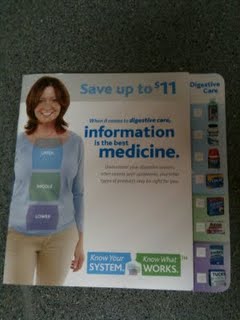 There is a new Walgreens coupon booklet that can be found by the pharmacy counter (pictured above)! This booklet has $11 worth of high value Digestive Healthy manufacturer coupons inside (NOT Walgreens coupons): Rolaids, Mylanta and more! There is even a $4/2 Rolaids coupon available! This coupon will easily make for some FREE Rolaids at various stores and some possible overage!
Now on to Coupon Stacking:
I've always been told as long as the Walgreens coupons have different codes, you can use both. I've had no issues stacking an in ad coupon, with a Walgreens coupon from the November coupon booklet and a manufacturer coupon.
Alright, now for the new deal:
Walgreens Kleenex Facial Tissue is priced at $1.09 per box with the in ad coupon! Plus, there's a $1/1 coupon in the November Healthy Savings booklet to sweeten this deal further (you can find this booklet at the pharmacy)…and on top of those coupons, you can use the Kleenex manufacturer coupon available!
Deal Scenario:
Buy 3 boxes of Kleenex Facial Tissue (85 ct) – $1.09 each with the in-ad coupon
Use $0.50/3 coupon from the 10/4 or 11/1 SS or from here
Plus, use the $1/1 coupon from the November Healthy Savings booklet (will deduct $3 for purchasing 3)
Final cost: FREE plus $0.23 in overage to go towards other items!
**Make sure to hand over the manufacturer coupon first, then the Healthy Savings coupon and finally the in ad coupon. If you do it this way, everything will go through without any beeps!
Thanks, It's Hip to Save!