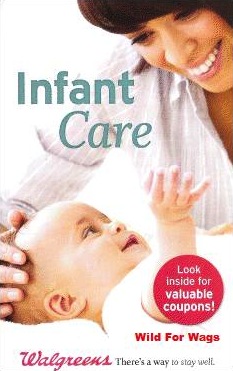 Walgreens has put out another new coupon booklet, called "Infant Care". These can be found near the registers. They have lots of baby related coupons, and they are Walgreens coupons, so you can stack them with manufacturer's coupons for additional savings.
The following coupons are valid through 12/31/11:
$2 off Children's or Infants' Advil Suspension (.05oz or 4 oz)
$2 off Triple Paste Medicated Ointment for Diaper Rash (2oz or larger)
$2 off Walgreens Brand Diaper Jumbo Pack
$2 off Any Enfamil Infant Formula Powder (22.2oz or larger)
$2 off Similac Advance or Sensitive (23.2 oz)
$2 off any two (2) Playtex Infant products
$2 off any one (1) Huggies Diapers Big Pack or Wipes (184 or 216 count)
$2 off any 1 Pampers Cruisers, Swaddlers, or Swaddlers Sensitive Diapers (Big Packs or Jumbo Packs)
Thanks to Hip2Save for the deal and Wild for Wags for the picture!