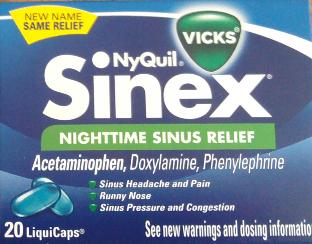 The Vicks NyQuil Sinex is ringing up at 2/$10 and is working for the $5 Register Reward deal! Combine this sale, Register Reward and a coupon and we have a moneymaker!
Buy 2 Vicks NyQuil Sinex Nighttime Sinus Relief (20 count LiquiCaps), 2/$10
Use 2 $4/1 Sinex Product coupons from the 9/26 P&G
Pay $2
Get back a $5 RR
Final cost: 2 FREE + a $3 moneymaker!
If you don't see any signs, have a cashier do a price check. If they ring up 2/$10, the Register Reward should print!
Thanks for the deal and picture, Wild for Wags!