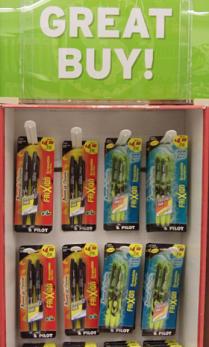 There is a great deal coming up on these new Pilot pens and highlighters starting on 4/4! They will be priced at $1.19 each and there is a Walgreens coupon in the April coupon booklet for $1/1 that will make them $0.19 each!
On top of that, many of them have a mail in rebate on the back, so make sure to grab one of those!
The mail in rebate is:
Buy 1, get a $1.25 refund
Buy 2, get a $2.75 refund
Buy 3, get a $4.50 refund
Here's a deal scenario:
Buy 3 Pilot Frixion Yellow Highlighters or Pens at $1.19 each: $3.57
Use the $1/1 Pilot Frixion Yellow Highlighter 3 pack or Black Gel Pen 2 pack Walgreens coupon from the April coupon book (will deduct $3)
Total: $0.57
Submit for the main in rebate for $4.50
Final cost: all 3 FREE + a $3.93 moneymaker!