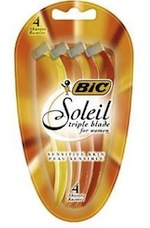 It seems that the Bic Soleil razors have been ringing up B1G1 FREE instead of B1G1 50% off for some of you! It didn't work that way at my store, but that doesn't mean it won't work for you! Go ahead and give it a shot. If they do ring up B1G1 FREE, you can do this scenario…
Buy 2 Bic Soleil Disposable Razors at $5.99 each: $11.98
Minus B1G1 FREE sale: $5.99 for both
Use the B1G1 FREE coupon from the 8/1 SS
Final cost: 2 for FREE!
If your store doesn't allow you to use a B1G1 coupon with a B1G1 sale, you can use the $3/1 coupon from the 7/11 SS and you'll end up paying $1.50 per razor!
Thanks, Wild for Wags!