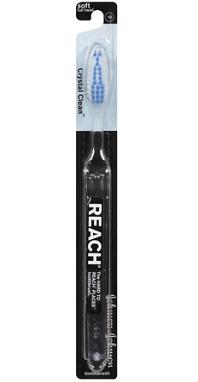 The Reach toothbrushes in this week's ad are working for the monthly Register Reward deal that started today! What does that mean? A $4 moneymaker on toothbrushes!
$1 RR wyb 2
$2 RR wyb 3
$4 RR wyb 4+
Valid 7/1/10 – 7/24/10.
Deal Scenario:
Buy 4 Reach Crystal Clean Toothbrushes at $1.59 each: $6.36
Use 4 $1/1 coupons from the 4/11 RP, 5/16 RP or from here (must register)
Use the Walgreens in-ad coupon that will make each toothbrush $0.99
Pay -$0.04
Get back a $4 RR
Final cost: all FREE + a $4 moneymaker!
Remember to buy these with something else to absorb the $0.04 of overage…and you must use your manufacturer's coupons first, then the in-ad coupon.
Even without manufacturer's coupons, they will still be FREE after Register Reward!
Thanks, WildforWags!