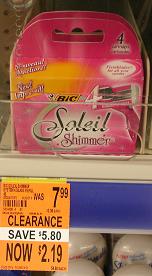 Here is another great clearance item! he Soleil Shimmer 4 pack razor cartridges may be on clearance for $2.19! Combine that with the $2/1 coupon and you have $0.19 cartridges!
Soleil Shimmer 4 pack Cartridge Refill, on clearance for $2.19
Use the $2/1 BIC Soleil Refillable Razor Handle or Cartridge Refill coupon from the 3/7 SS
Final cost: $0.19
Thanks, WildforWags!