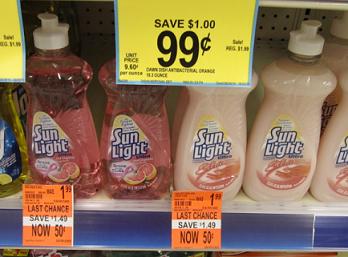 Here's another Walgreens clearance find! Sun Light dish washing liquid was reduced from $1.99 to $0.50 at my store, found in the air freshener aisle. If you have the $0.25/1 coupon from a while back, you can grab it for only $0.25! Otherwise, just use it as a filler. 🙂
Sun Light Dish Washing Liquid, on clearance for $0.50
Use the $0.25/1 coupon from the 5/23 SS
Final cost: $0.25 each!
Thanks, WildforWags!