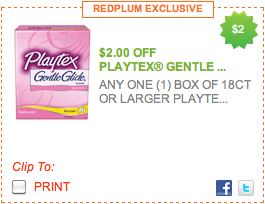 Red Plum recently released a new Playtex coupon, valid for $2 off any Playtex Gentle Glide (18 count or larger)! These will be on sale next week at Walgreens (starting 9/12), so you'll be able to get a pretty good deal on these!
Playtex Gentle Glide Tampons (18 pack), on sale for $3.99
Use the $2/1 coupon from here
Use the $1/1 coupon from the Walgreens September coupon booklet
Final cost: $0.99 each!
Thanks, WildforWags!