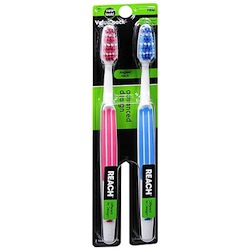 This week, Walgreens has select varieties of Reach toothbrushes on sale for $2.99. You'll also receive a $2 Register Reward when you buy one, which is like paying $0.99 for the toothbrush. The single and 2 pack of toothbrushes are included in this offer.
There are a couple of Reach toothbrush coupons you can use to grab these for FREE, or even make $1! Make sure you print these two coupons now for the Reach toothbrush moneymaker:
Reach Toothbrushes – $2.99 (starting 7/28)
Buy 1, Get $2 Register Reward
$2/1 Reach Brand 2 Pack (Except Crystal Clean)
$1/1 Reach Brand Toothbrush (Except Crystal Clean)
Final Price: FREE + up to $1.01 moneymaker!
Make sure to print these coupons now; they may disappear by the time the sale starts. These coupons also reset at the beginning of July, so if you printed for the sale last month, you should be able to print again!