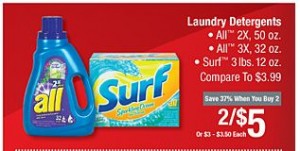 If you have a Big Lots nearby, you'll be excited to know that you can get killer deal by price matching their ad! Through 1/23, they have All 2X, 50oz and All 3X, 32oz laundry detergent advertised 2/$5. Head over to Walmart or Target with your local Big Lots ad and do a price match. They should be able to honor the 2/$5 advertised price. And, to sweeten this deal even further, use two $2/1 coupons from the 1/3 RP! Your final cost will be just $0.50 per detergent.
Did your area not get any $2/1 All coupons?
If that's the case, you may want to head over to eBay! It looks like you can get a lot of 10 to 20 $2 coupons for around $1 to $3 shipped.
Thanks, Hip2Save!