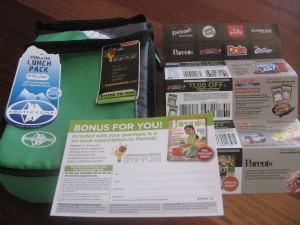 Remember the Target lunchbox deal I told you about?! Well, there's an even better deal on the Arctic Zone lunchboxes at Walmart! They start at just $3, and inside each lunchbox is a coupon book and the $4.96 rebate for Parents magazine! To get the refund, write 'Refund' on the Parents magazine postcard and mail with a copy of the receipt to:
Parents Refund
PO Box 37373
Boone, IA 50037-0373
You'll pay only $3 for the lunchbox and you'll get the $4.96 refund, which makes this a $1.96 moneymaker!
Coupons include…
$1/1 Flinstones Multivitamin
$5/1 Leapster game
$1/3 Horizon Organic Single Serve milk
$1/2 Yoplait Kids Yogurts
$1/2 Bumble Bee Premium Albacore wor Light Tuna pouch
$1/2 Dole Fruit Cowls, Gels or Parfaits
Thanks, Mojo Savings!