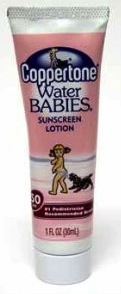 If you received the $4/1 Coppertone coupon in the 6/20 SS, here's a deal for you…
Travel Size Coppertone Water Babies, $0.97
Use the $4/1 coupon from the 6/20 SS
Final cost: FREE + $3.03 in overage to go toward other items!
Just be sure to have something else priced at least $3.03 in your transaction to absorb the overage.
This deal is highly YMMV…most cashiers will probably adjust the coupon down to $0.97.