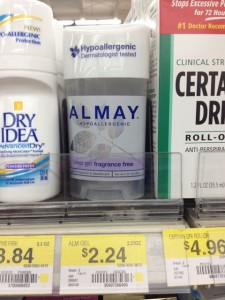 There are lots of great deals available at Walmart right now! Here are just a few of the deals I've seen recently. Make sure to check out more Walmart deals before you go as well.
Almay Deodorant – $2.24
$4/1 Almay Cosmetic Product, exp. 6/16/13 (SS 06/02/13)
Final Price: FREE + $1.76 overage
*The FDA lists deodorant as a cosmetic product.
Suave Shampoo or Conditioner, 15 oz – $0.94
$1/1 Suave Hair Product printable
Final Price: FREE + 6¢ overage
Vlasic Pickle Relish – $0.98
$1/1 Vlasic Pickle Product printable
Final Price: FREE + 2¢ overage
Almay Makeup Remover – $4.63
$4/1 Almay Cosmetic Product, exp. 6/16/13 (SS 06/02/13)
Final Price: $0.63
Almay Eye Makeup – $4.97
$4/1 Almay Cosmetic Product, exp. 6/16/13 (SS 06/02/13)
Final Price: $0.97
Hormel Sandwich Makers – $1.98
$1/1 Hormel Sandwich Makers printable
Final Price: $0.98
Rayovac Alkaline Batteries, 8 pk – $2.97
$1/1 Rayovac Alkaline Batteries printable
$0.75/1 Rayovac AA Batteries (Ibotta Deposit)
Final Price: $1.22
Easy Access Bandages – $2.97
$1.10/1 Easy Access Bandages printable
Final Price: $1.87
Dole Banana Dippers – $2.98
$0.75/1 Dole Banana Dippers printable
Final Price: $2.23
Aveeno Protect + Hydrate Sunscreen – $7.97
$2/1 Aveeno Suncare Product printable
Final Price: $5.97