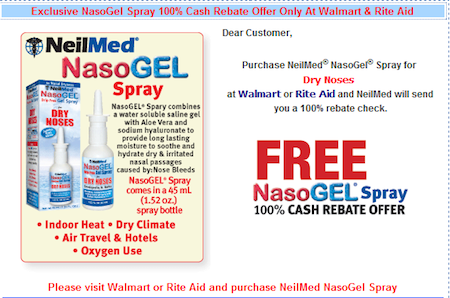 Wow! NeilMed has an awesome new rebate available: FREE NasoGel Spray after 100% cash rebate! This rebate actually allows you to get 3 items per household!
Rebate Details
To receive your manufacturers' cash rebate, purchase NeilMed® NasoGel Spray from Walmart or Rite Aid, send this completed form and original UPC Bar Code along with a copy of your receipt. Please allow up to 45 days to receive the rebate check. Products must be purchased between October 09, 2010 and November 15, 2010 and submitted by November 30, 2010. Maximum of 3 items per household. This offer cannot be combined with other offers.
I know I'll be heading to Walmart to purchase these today…are you?
Thanks, For The Mommas!