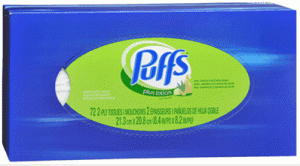 Walmart carries the smaller 72 count boxes of Puffs with Lotion for just $1 each. There was a recent Vocalpoint Mailer that contained a FREE sample of Puffs along with a $1/1 Puffs with Lotion coupon and several $0.50/1 Puffs with Lotion coupons. Use the $1/1 coupon to get a box for FREE!
Puffs with Lotion (72 count), $1
Use the $1/1 Puffs Plus Lotion Single coupon from the Vocalpoint Puffs sample
Final cost: FREE!
If you haven't signed up for Vocalpoint yet, it is a great opportunity to get samples and coupons for new and current products!
Thanks, Deal Seeking Mom!