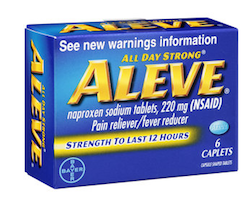 If you subscribe to All You magazine, check your January issue for a $1/1 Aleve Product coupon. This coupon does not have any size restrictions, so you can pick up the travel size bottle for free at Walmart!
Aleve (6 ct.), $0.97
$1/1 Aleve Product, exp. 3/31/13 (ALL YOU Jan '13)
FREE after coupon!
Check out the other Walmart deals you can grab while you're there.