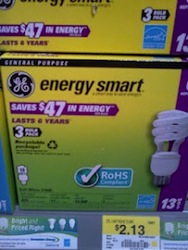 There's a high value $2/1 GE CFL Lightbulbs coupon available this afternoon! Walmart sells the 3 packs for around $2.13, so that makes each bulb around just 4¢.
GE Energy Smart CFL Light Bulbs (3 pk.), $2.13
$2/1 GE CFL Lightbulbs
Final cost: $0.13 each
Check out the rest of the Walmart deals you can grab while you're there!
Thanks, Sarah's Deals!