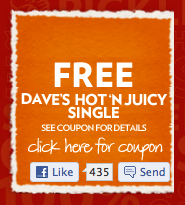 Currently, Wendy's is offering a coupon for a FREE burger! Head over to their Facebook page, click on the "Tour of America" tab, then scroll down and look for the above image. Click on it, and you'll be able to print a coupon for a FREE Hot 'n Juicy burger with purchase of a small drink and small fries!
Hurry, this coupon probably won't be around for long!
Thanks, Moms Need To Know!