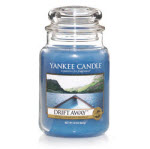 UPDATE: It is not all scents, the following will work:
Tahitian Tiare Flower
Pineapple Cilantro
Early Sunrise
Drift Away
Beautiful Day
Yankee Candle has a buy one large jar, get one FREE sale right now. You can combine that sale with the below BOGO coupons codes to get 4 large jars for only $25. Shipping is a flat $5, which makes these only $3 shipped for four. That's about the price of buying one!
Use CRM001Z for small jars
Use CRM001Y for Medium Jars
Use CRM001X for Large Jars
It appears only the large jars on sale, so stick with those. Simply add the jars to your cart and then enter the above coupon code. Click here to start shopping.
Thanks, SwagGrabber!